You don't need be a superhero to draw one! With the the help of some simple basic techniques Universikid's illustration course will start your journey. These 10 lessons will show you how easy and fun drawing can be. You'll only need some paper, colored pencils, markers, crayons, paint and paintbrushes and your creativity to transform simple shapes into any character you want.
The Illustration course focuses on the use of color, different tools, and basic drawing techniques. Mastery of these techniques helps children use graphic representation as an expression of their individuality. Lessons contain interactive elements that encourage children to participate in creating stories related to the characters they're drawing, engaging different aspects of their imagination.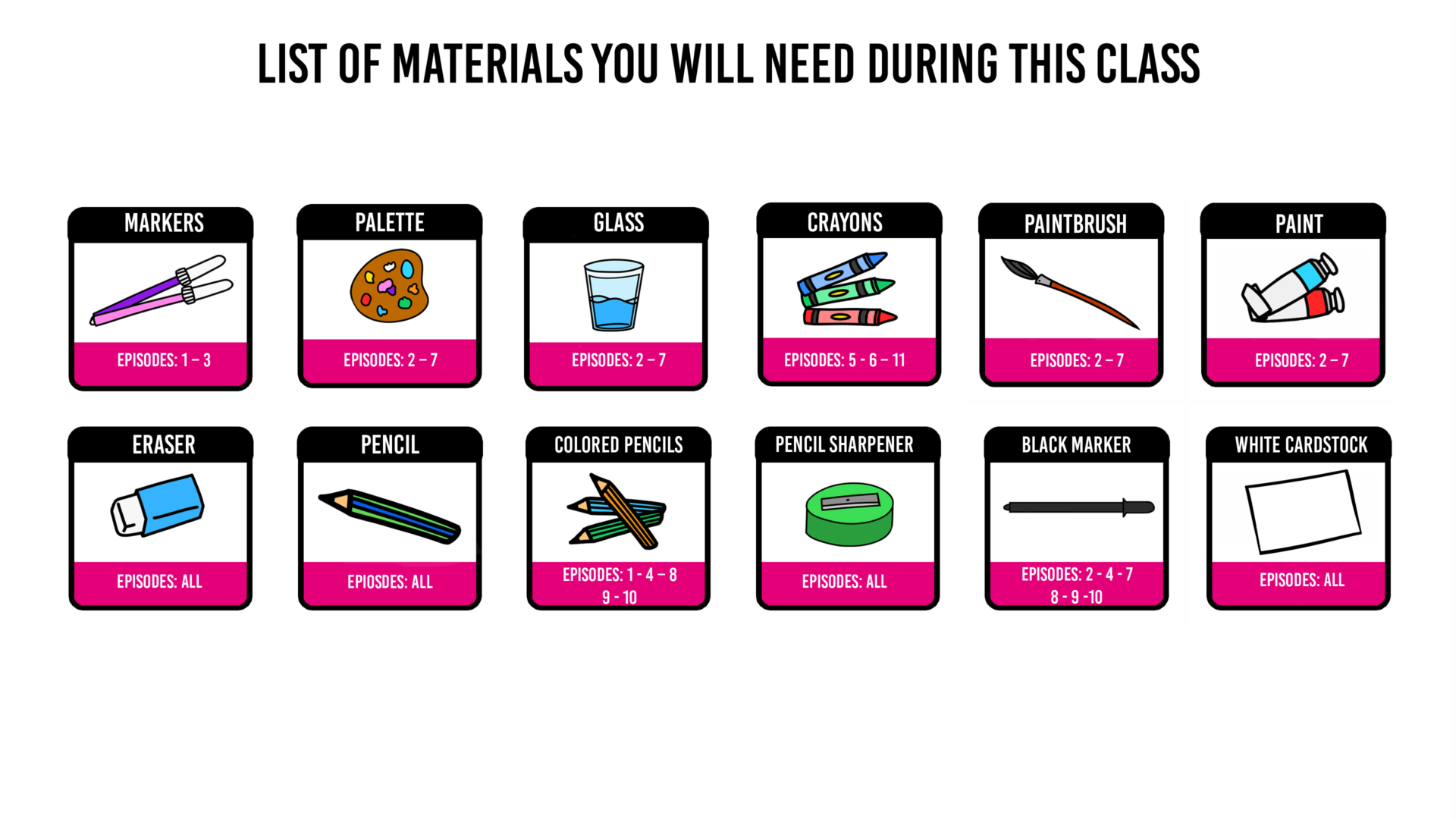 According to Experts...
General Characteristics:
Drawing is the primary form of communication for children, even when they cannot yet express their emotions through words. Numerous scholars in the field of psychology have expressed their view on this topic, not only to define the importance of drawing as a representation of one's internal world but also concerning the phases of children's drawing development.
Georges Luquet, a French scholar, analyzed children's drawings and identified four significant developmental phases: accidental realism, failed realism, intellectual realism, and visual realism. The age of accidental realism is the scribbling stage, where the child begins to represent graphic forms randomly. After these initial interpretations, the drawing becomes intentional, even though the child still cannot fully represent what they intend to draw (failed realism). In the phase of intellectual realism, the child realistically represents the object of their depiction, although aspects such as perspective and three-dimensionality are not yet considered. The realistic drawing (visual realism) occurs around the age of 8-9, where children can represent three-dimensional objects, having acquired more abstract cognitive concepts.
The Illustration 1-2 workshop can be useful for teaching the main techniques of representing characters as well as backgrounds and landscapes, allowing children to express their imagination and creativity. The course not only facilitates learning but also enhances attention and concentration, relaxation, and improves motor skills, essential for writing.essential for writing.
Specifically:
The Illustration 2 workshop continues the representation of fantasy characters and the use of tools such as crayons, markers and crayons. This workshop also introduces the technique of perspective representation. The teacher can also make the activity interactive by asking children to collaborate by choosing names or creating a story. This allows the child to express emotions through characters and unleash their imagination and creativity. Staying within boundaries, coloring within a figure, and using smaller and larger tools promote improved motor skills, a prerequisite for writing. This makes the course suitable for children aged 5 and above. While other workshops may be more suitable for older children, considering Luquet's theory, they are in a phase of realistic representation of drawings and can easily learn the representation of more abstract concepts such as perspective and three-dimensionality.
Skills:
Imagination

Creativity

Emotions

Concentration

Improved motor skills

Relaxation

Attention

Learning.